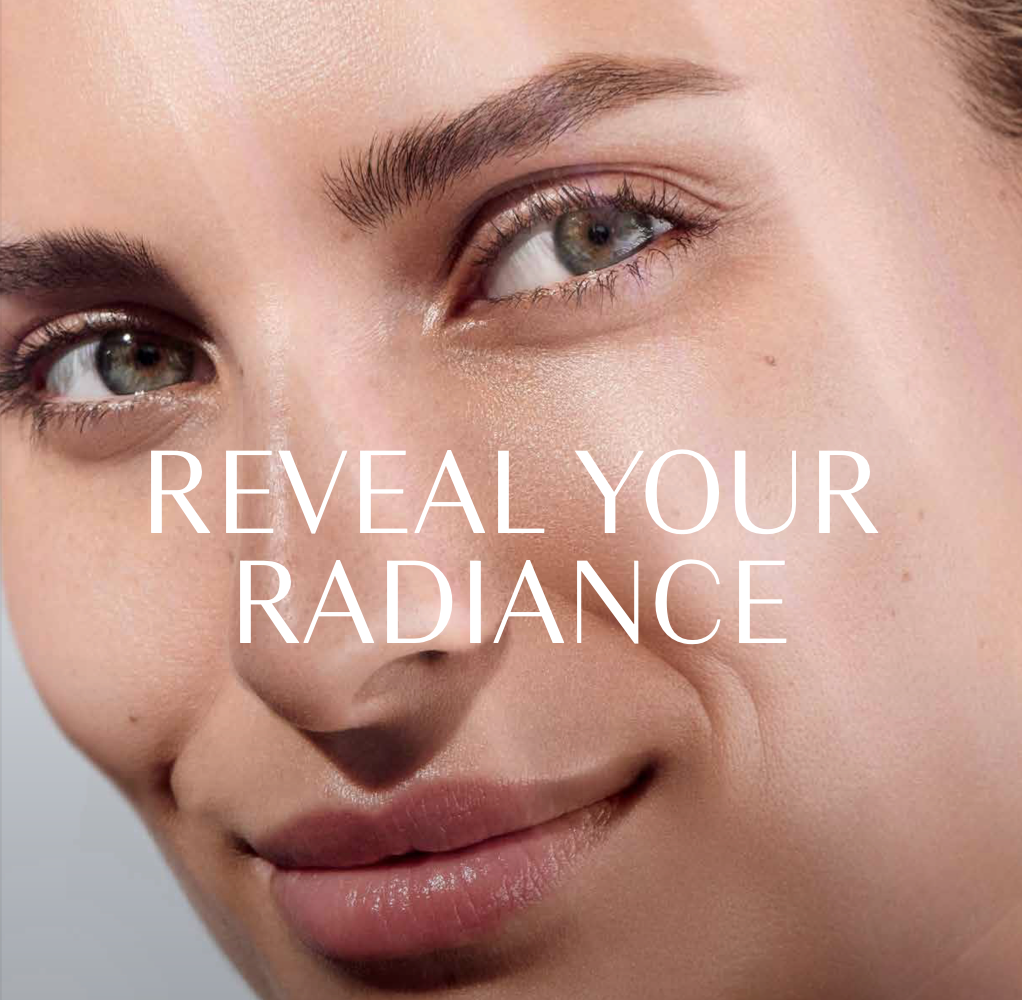 Pittsburgh Diamond Glow Dermalinfusion
 Seeking instant and long-term results? Get both with DiamondGlow! This multi-phase simultaneous treatment immediately initiates repair and recovery from hyperpigmentation, wrinkles, uneven texture, and roughness. DiamondGlow is the only non-invasive skin resurfacing and rejuvenation procedure that provides simultaneous exfoliation, evacuation and specific topicals to improve skin texture and hyperpigmentation caused by acne and the aging process.
DiamondGlow doesn't stop working when the treatment ends. Fullness, smoothness, and radiance last for days. And, because the treatment stimulates renewal within the skin, improvement continues as new, healthy cells rise to the surface and minimize previous concerns.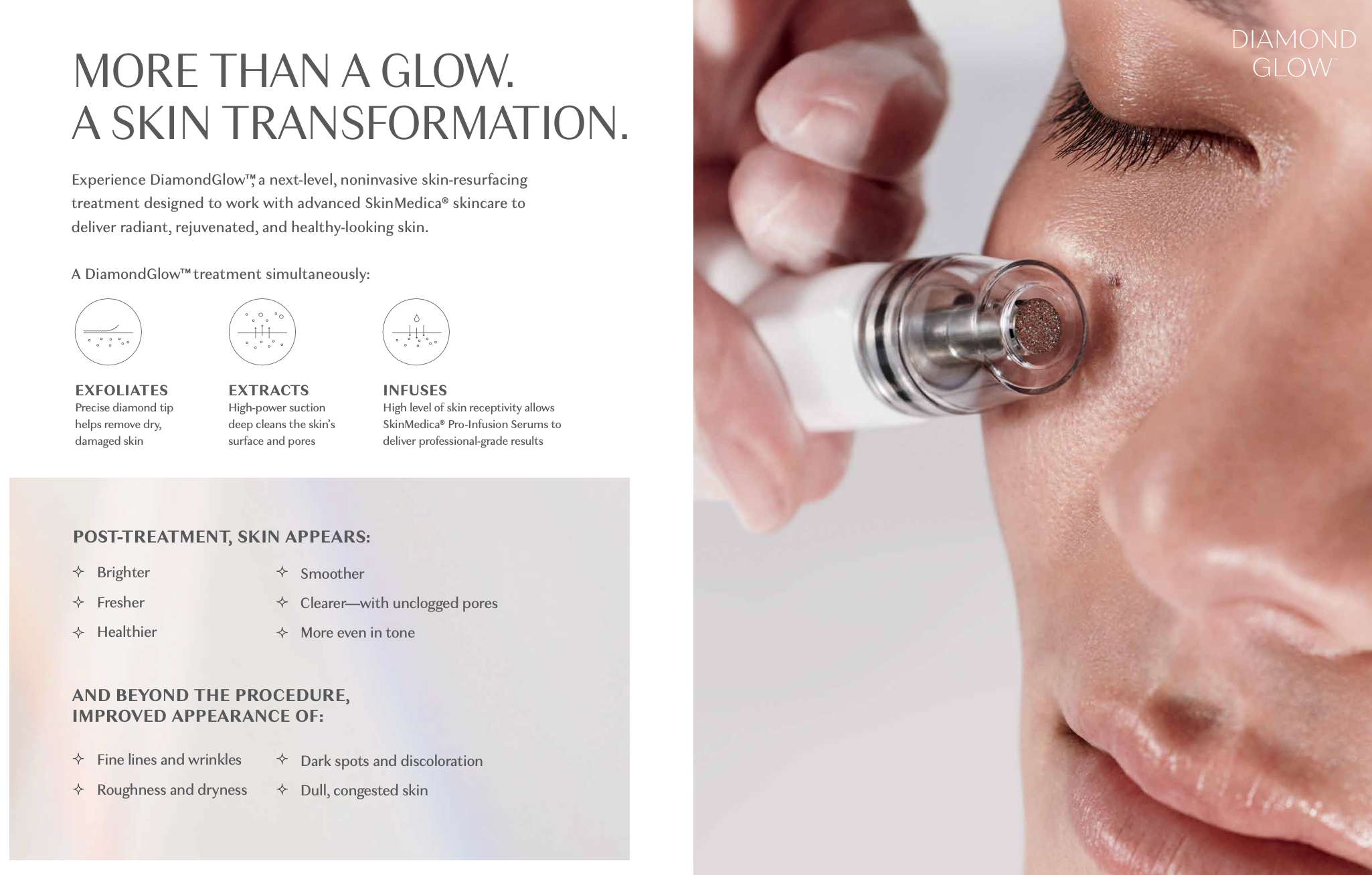 diamondglow faq's
What does this treatment feel like? Does it hurt?

This treatment is incredibly relaxing- most clients fall asleep! Skin looks and feels immediately smoother and softer. DiamondGlow is powered by its patented handpiece, developed to deliver many precise skin benefits in one simultaneous action. The pneumatic chamber at the handpiece tip creates a closed-loop suction onto skin upon contact, instantly lifting skin for extraction and abrasion by a recessed exfoliating diamond tip. At the same time, pneumatic pressure infuses skin with ingredient-rich serums.
How often can I receive this treatment?

Just one DiamondGlow treatment can transform skin – but a series will deliver dramatic results. Keep up with a series of monthly DiamondGlow treatments to speed clearing and rejuvenate, smooth, hydrate, and even skin tone.
What skin conditions does this treat?

This treatment is wonderful for anti-aging- fine lines & wrinkles or sallow skin. Hyperpigmentation- dark spots, sun damage, PIH. And dry and dehydrated skin or oily-prone skin, congestion and rough skin texture.
Is there any downtime or aftercare?
DiamondGlow is noninvasive, and treats the face, around the eye area, lips and hands with no downtime. It's important to always wear a SPF of 30 or higher to protect your skin from the sun's harmful rays.
What is the best to add-on to this treatment?
Add on a Hand Rejuvenating Treatment with your DiamondGlow. This is the instant and long-term solution for improving extreme dryness and/or cracking on hands. Improving rough texture, fine lines, wrinkles, sun damage, dry and dehydrated skin on your hands. We also love to add on a HydroJelly Mask, Red LED or High Frequency for even more skin benefits!
Who should not receive this treatment?
You should not have a DiamondGlow treatment if you have compromised skin quality. Be sure your Esthetician is informed if you are pregnant or lactating, have any medical conditions, including allergies, and if you are using topical medications on the area to be treated.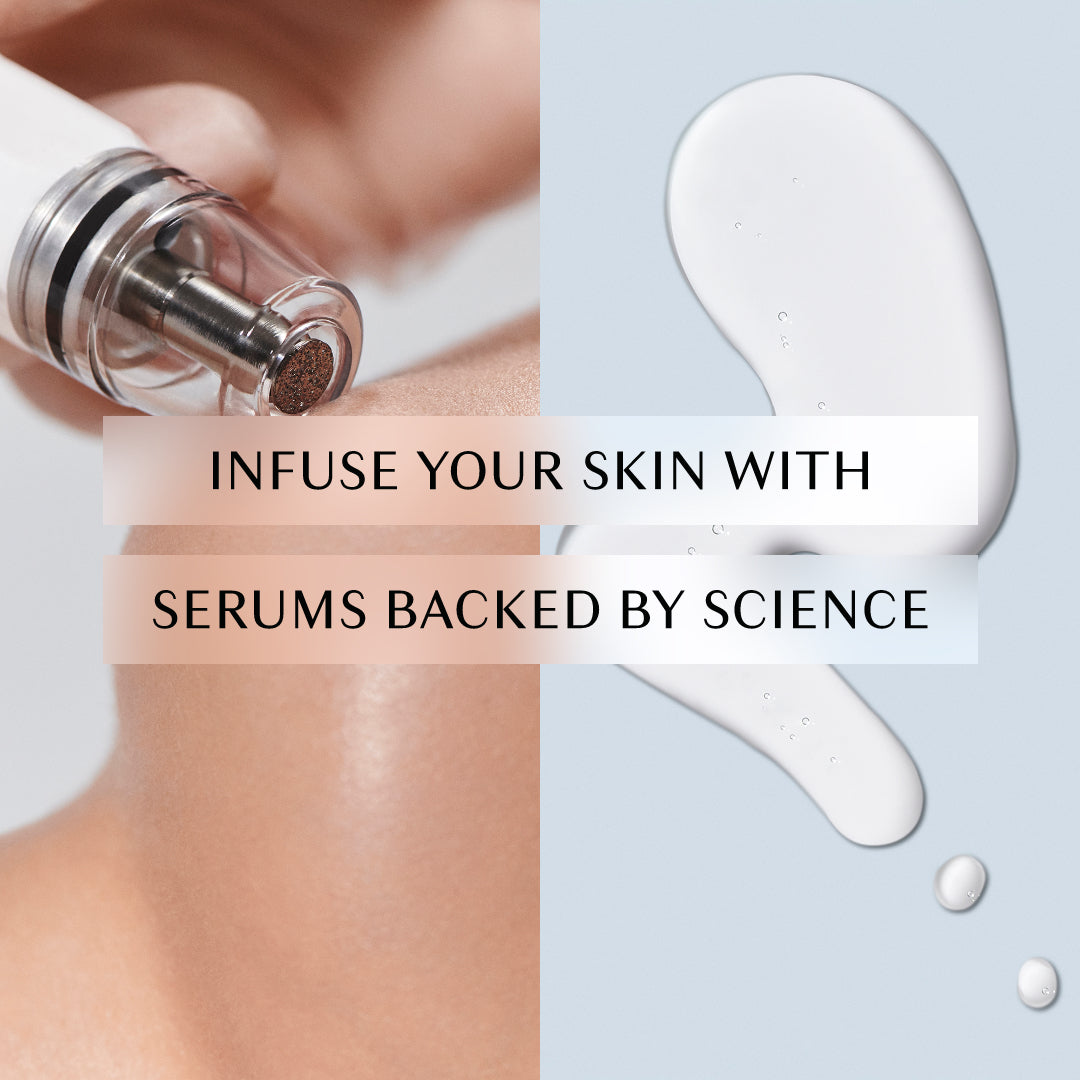 The science and research that go into SkinMedica® Pro-Infusion Serums deliver exceptional skincare with truly meaningful results. DiamondGlow® is designed to work with SkinMedica® Pro-Infusion serums tailored to specific skin concerns for a highly-customizable treatment. All Pro-Infusion Serums are sulphate-free, paraben-free, and fragrance-free.

HA5HyaluronicAcid - Features 5 forms of HAs to instantly hydrate, visibly plump, and reduce the appearance of lines and wrinkles.

SkinBrightening - Patented Lumixyl® peptide brightens, improving the appearance of uneven pigmentation.
VitaminC - A deep dose of antioxidants to rejuvenate and protect.

PoreClarifying - Powerfully addresses imperfections, promoting clearer skin. Ideal for acne-prone skin.

Powered by AZEXO Shopify page builder