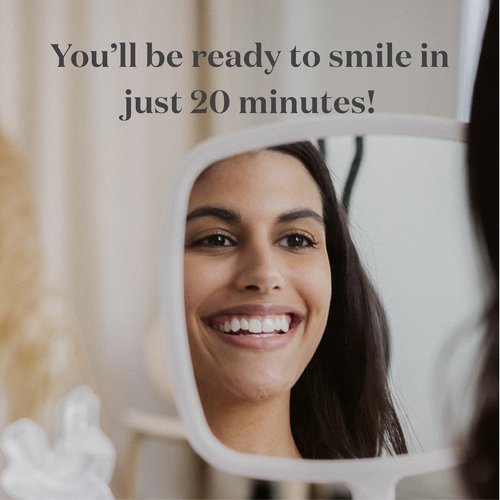 Natural Teeth Whitening in Pittsburgh
Finding the perfect teeth whitening takes time, so we did the hard work for you. We present to you our latest crush, SunnaSmile, an organic teeth whitening service that removes stains, fights bacteria and creates pearly white smiles! Plus our gel is a registered natural health product!! 
This is an LED-activated teeth-whitening system. It's safe on enamel, protects gums, causes little to no-sensitivity, is a registered natural health product and on top of all that, it's cost-effective. One session is the equivalent in whitening power to 50 tubes of whitening toothpaste, 25 dental whitening syringes and 5 packages of strips! 
Its advanced formula was developed over five years of extensive research and designed to provide maximum oral health benefits while whitening. It's proven to be effective, enamel-safe, low-sensitivity, and a convenient option available for use at-home or in-spa.
teeth whitening faq's
How does it work?
The teeth whitening gel absorbs the LED light energy, which photo-chemically "excites" the peroxide molecules into breaking down faster. It provides "activating energy" that speeds up and improves the performance of whitening.The LED light activates the professional whitening gel upon contact to provide visible results in just 20 minutes.The in-spa treatment formula is slightly more potent than the at-home kit, removing years of built up stains and discoloration in just 15 minutes.
How long does it take?
An in-spa teeth whitening session takes 40 minutes. That includes the prep and sitting under the LED Light for 20 minutes. The at-home kit takes 20 minutes.
Is it safe for sensitive teeth? Will my teeth and gums be in pain after?
Expect little to no sensitivity after your treatment; it was formulated with sensitive teeth in mind. It's safe on enamel, protects gums, causes little to no sensitivity, and is a registered natural health product. A very small percentage of people will have minor discomfort in their mouth and this normally dissipates within 10 minutes.
Should I have a cleaning prior to whitening?

If possible, yes! And if you had not had a cleaning in the last 6-8 months, we highly recommend it.
What is the minimum age for this service?
The recommended minimum age is 12. If you're unsure, please check with your dentist.
Is this service pregnancy safe?

We recommend that you contact your physician prior to using whitening while pregnant. However, no government issued restrictions currently exist.
Whitens teeth by 3-4 shades in as
All natural ingredients, enamel safe + a natural registered health product.
Creates perfect pearly whites, removes plaque + stains, and fights bacteria!
Teeth Whitening Session
Average of 3-5 shades whiter! We will determine what teeth shade you have right before your in-spa treatment. Afterwards we will do the same. Bye coffee stains. Later, red wine. We're here to get rid of those stain buildups and leave your smile looking flawless in 20 minutes!
Follow-up Session
For clients that have already had a session and still have gel in their whitening pen. Bring your kit with you to your appointment!
Powered by AZEXO Shopify page builder