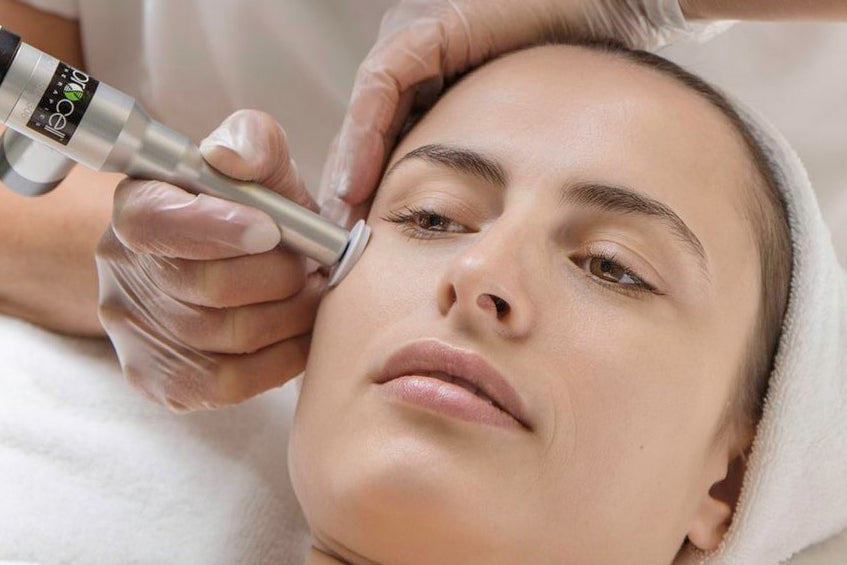 & Stem Cell Therapy in Pittsburgh
Microchanneling is a noninvasive procedure designed to stimulate your body's own natural ability to generate collagen, elastin, and other building blocks of healthy skin. By stimulating the outermost layers of the skin, microchanneling can help your body start this process without penetrating into living tissue. 
Microchanneling & Stem Cell Therapy improves the appearance of fine lines, wrinkles, uneven skin tone, acne & acne scarring.
microchanneling faq's
How does this treatment work?

During the treatment, very small micro-needles penetrate the upper layers of your skin creating hundreds of thousands micro-channels. In response to each micro-injury, an inflammatory healing process begins which initiates the formation of new collagen. Along with the use of 
Human growth-factor serums (derived from bone marrow mesenchymal stem cells) which are known to promote scarless healing with minimal inflammation. 
Over time, the repeated healing process improves the surface texture and the overall appearance of the skin. 
Red LED is included at the end of every treatment.
You'll experience an improvement in skin tone, texture, laxity, fine lines and wrinkles. And you'll see long term improvement that really lasts when you complete a series of treatments as recommended by your esthetician. Microchanneling can dramatically improve your skin's firmness, smoothness, elasticity, hydration, sensitivity and tone. Visible improvement in aging skin, acne and other scarring, uneven or hyper-pigmented skin & overall tone and texture. And with our expertise, we can show you how to make those results last!
What does the treatment feel like? Does it hurt?
Microchanneling is a speedy treatment that transforms the look and feel of damaged skin to a smoother, and healthier looking skin with minimal discomfort and little downtime. Most clients are able to do the procedure without numbing cream and without any noticeable pain. There is no lingering discomfort. Post-procedure, most people report a "tight" feeling in their skin.
Can I receive it on my body?
Mirochanneling on the body can be done to minimize the appearance of scars, stretch marks, and crepey skin. Think neck, chest, arms, stomach, legs and buttocks.
Treatments can smooth out imperfections and improve the surface texture of your skin. Your skin will appear smoother and healthier after a series of treatments.
Is there downtime? Aftercare?
It is normal for treatments to result in some skin irritation, especially for clients with more sensitive skin. Always wait a minimum of 90 minutes before putting anything else on the skin. During this time it is normal for the skin to remain pink or light red. After the 90 minutes you can apply additional moisturizer or other products. Keep in mind however, that as your skin may be more sensitive than usual for several days after the treatment, especially strong topicals should be avoided until the skin returns to normal.
Who should not receive this treatment?
If you have any underlying condition that significantly impairs your immune system, it is a good idea to avoid microchanneling. Examples include but are not limited to active radiation or chemotherapy, uncontrolled diabetes, chronic inflammatory skin disease, Accutane in the past 2 years, hemophilia or similar bleeding disorder. Also anyone with stainless steel allergies should not do this treatment. We also discourage treatments for those who are pregnant or nursing.
How many treatments will I need?
Number of treatments range greatly depending on what we are treating.
Though neocollagenesis (the production of new collagen) can take several weeks, it is not abnormal to notice an improvement in the quality and appearance of your skin within the first 24 hours. After 2-3 treatments a thicker more robust, collagen filled cellular matrix will produce more consistent and noticeable improvement. And 6 or more treatments may be recommended for scarring, laxity and wrinkles. There is no limit to the number of treatments that one can receive as long as adequate time passes between each treatment.
Powered by AZEXO Shopify page builder