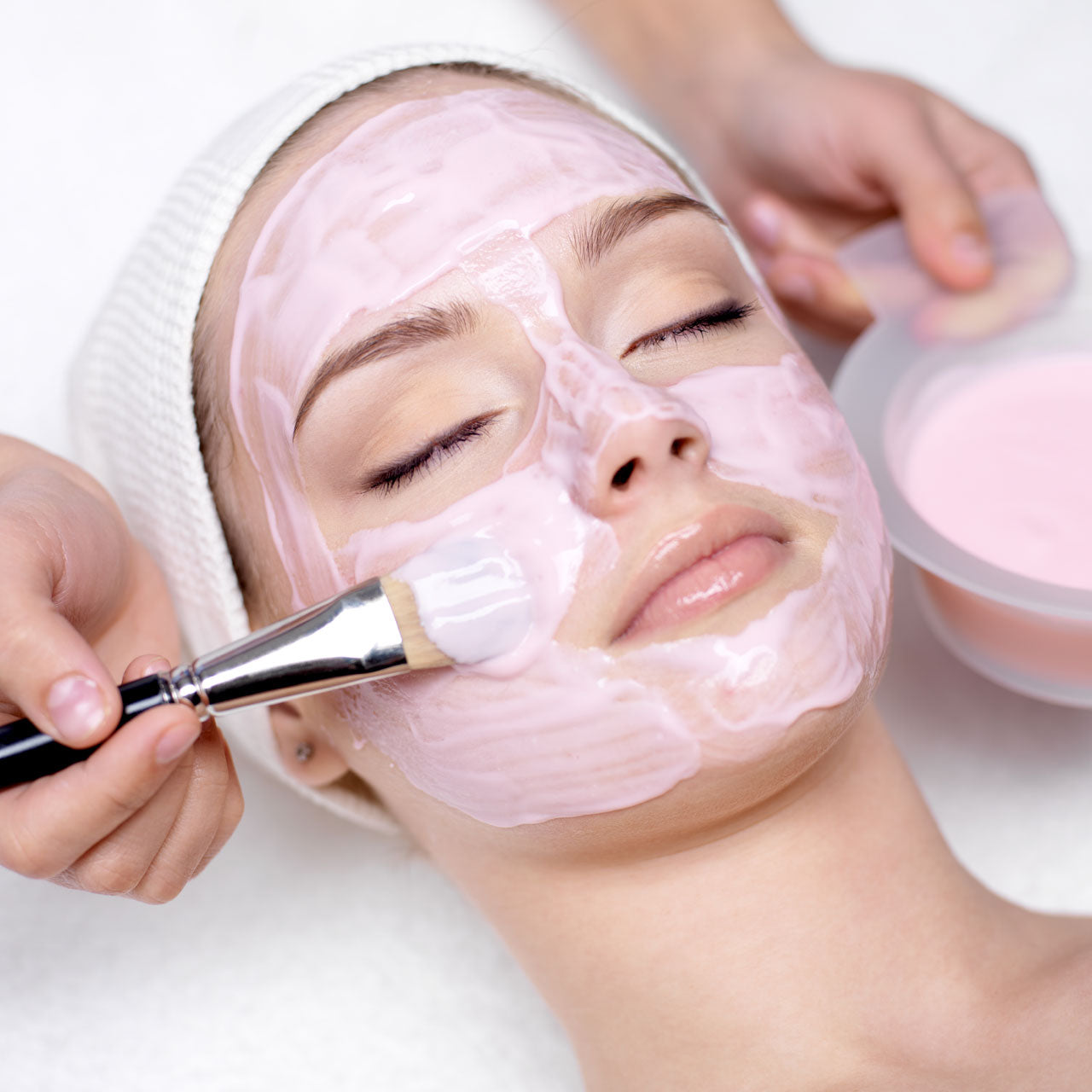 Custom Facial in Pittsburgh
A way to say "I love you" to your skin while reaping benefits that keep your skin clear, hydrated and healthy. Facials aren't only good for your skin, they're good for you. Regular self-care is incredibly important and facials have been shown to help reduce stress levels, making you feel more relaxed and providing you with a peace of mind. Facials will deeply cleanse and exfoliate your skin, while improving circulation, targeting specific concerns and rejuvenating skin.
Our Signature Facial which includes Gua Sha and a Hydrojelly mask is customized specifically to meet your skin care needs and goals while creating a balanced, glowing and healthy look and feel.
Gua Sha is a massage technique utilizing a smooth-edged gemstone. It is designed to relieve tension in the muscles of the face, boost blood circulation, and encourage lymphatic drainage to help reduce inflammation.
A Hydrojelly mask creates a silky, soft vacuum-like seal over the skin (eyes/lips can be avoided). This seal pushes the nourishing ingredients from the mask and those that have already been applied during your treatment deep into the skin.
fACIAL FAQ'S
How do I know which facial is right for me?
It's easy- we only have one! Our Signature Facial is built to be customized to make it best suited for your skins needs and goals. We will always perform a consultation with you before any of your skin care treatments and can guide you in the right direction.
What product line do you use?
We utilize PCA SKIN, Cosmedix and Farmhouse Fresh. We may stick to one line throughout your facial, or use a combination. We love PCA SKIN for their highly effective treatments and daily care products that are backed by science. Cosmedix for their plant-based ingredients and Nobel-prize winning chemistry that works synergistically with the skin. And Farmhouse Fresh for their Farm to Table approach - and farm animal sanctuary.
What can I add on to my service?
All of our add on treatments make a wonderful addition to your facial. Choose from dermaplaning, high frequency or red LED.
What should I expect at my appointment?

Your appointment will start with a skin consultation and analysis. We'll ask you to change into a robe, and remove any jewelry, then you'll get comfy! You'll experience a deep cleansing, all natural exfoliation and gentle extractions (if necessary or requested). A Hydrojelly mask will sit as you enjoy a hand massage. Finally, a relaxing facial massage utilizing Gua Sha will be performed (High Frequency will be substituted for those who should not receive Gua Sha). Feel free to fall asleep - you will wake with your skin feeling deep cleaned, youthful and amazingly hydrated! You'll be able to ask us all your skin care questions and we will be able to give you recommendations specific to you.
Is there any aftercare?

You will leave your service feeling relaxed with skin that is healthy, hydrated and glowing. If your facial is performed in the day, you will leave with sunscreen applied. If your facial is later in the day, we will prepare your skin for night with no cleansing necessary before bed. Ideally, we prefer you not to wear makeup after your facial and allow your skin to absorb all antioxidants and hydration without makeup. However, wearing makeup afterward will not harm your facial.
Can I receive a facial if I'm pregnant?
Yes. Facials are especially important during pregnancy as your skin can be reflective of the hormonal changes occurring within your body. Having regular services can help alleviate some of the symptoms (breakouts, increased redness and sensitivity) when your usual products may be off-limits. Facials can also be a wonderful relaxation tool which can keep your blood pressure at a healthy level.
Powered by AZEXO Shopify page builder